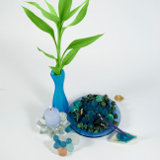 A little more about Aromatherapy
Using aromatherapy I can help you to experience the many benefits of Essential Oils to enhance the healing and relaxing effects of massage.
It is a gentle way of aiding the bodys resiliense to infections, viruses and fatigue and also improves circulation, thus helping to relax both mind and body, aiding to promote the natural ballance.
Aromatherapy is a very personal treatment. I will blend Essential Oils for you as an individual for maximum help to aid you to maintain the ballance you need to help you acheive your full potential, wether this involves relaxing and maintaining better sleep patterns or "waking you up" to make you feel more focused and able to tackle everyday life or specific problems more easily.